April's Fast Follow Investor (FFI) trades increased my stock ownership by 20%. I added 10% to international stocks and 10% to U.S. high-tech stocks.
I could try to explain why high tech is trending up, but I won't try. Because it doesn't matter. Instead, I'll follow the model. It's like buy & hold passive index investing: you gotta stick with it!
The Fast Follow Investor portfolio on April 1, 2023 (approx.):
45% International stocks
15% U.S. stocks, mostly high tech
15% Gold
25% Cash
It's 15 trading days into the month and my portfolio is up 1% so far. That return has doubled my gains this year.
Would I have made the U.S. high-tech trade without the model telling me to do so? Likely not.
But, the model knows better than me. It's founded on finance and grounded in math. Over the long term, it always beats any of my so-called expertise. My predictions for how markets move are guesswork.
See you next month!
P.S. If you are an FFI member, I email you my trades each month. It looks like this: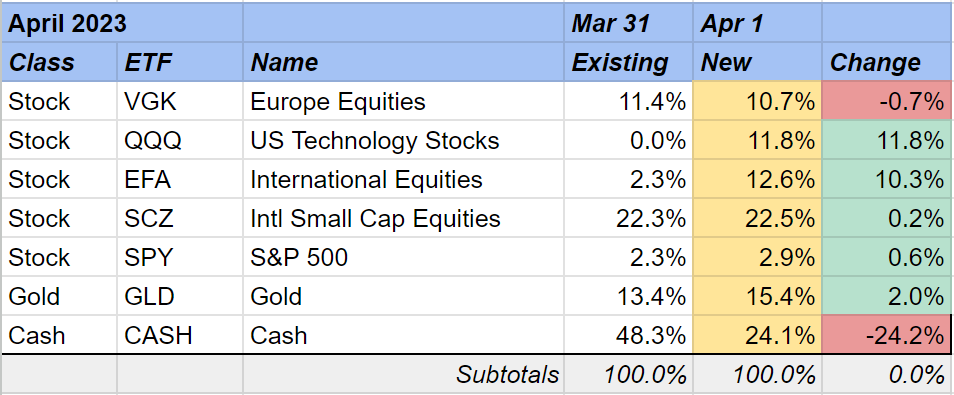 Then, it's your choice for how to use the information:
Many start out by setting up a "no money" portfolio to learn more.
Others try it on a modest account, perhaps $10,000.
I recommend both. Always start small until you fully understand any new investment strategy.
Here is how it works, in short:
I use the model's holding %s to determine ETFs to own over the next month. Given the ETFs I already own, my calculations result in either ETF sales or ETF purchases (my trades).
As an FFI member, I'll send you detailed instructions and templates to track your own investments and monthly trades.
I complete my trades 30 minutes after the market opens on the first trading day of the month. After that, I do nothing until receiving a new set of FFI model holding %s for the next month. I'm set!
Rinse and repeat (takes 30 min) each month…forever.


Subscribe to get my posts sent to your Inbox. Thanks!


What is Fast Follow Investing?

Start with buy & hold passive indexing.
Then, 1) expand beyond stocks and bonds and 2) cut off severe market losses at the knees.
Grow your lifetime savings at 12% to enjoy a 5% forever rate of withdrawal in retirement.
Fast Follow Investing (based on Tactical Asset Allocation) is finally here for small investors like you and me.
So join me!